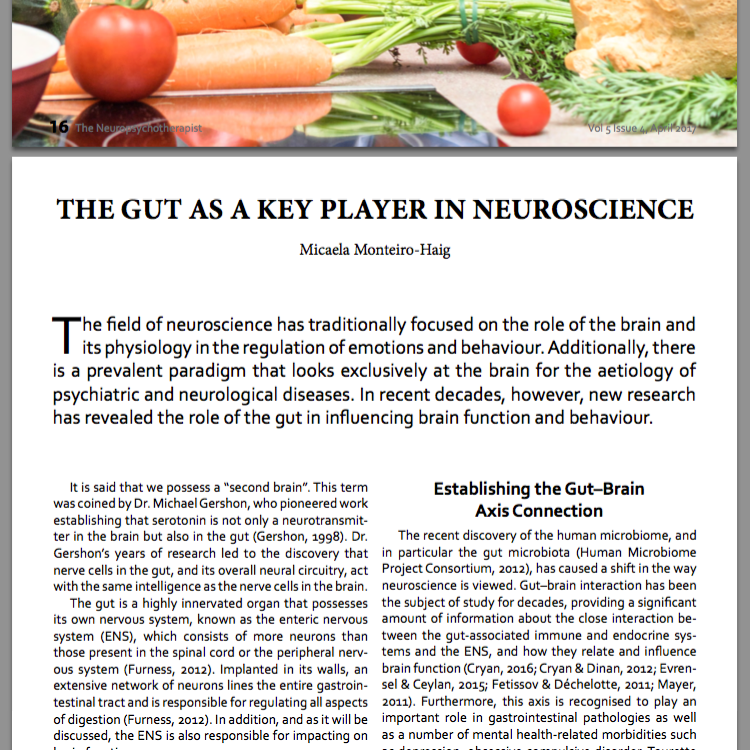 I am very excited to announce my article 'The gut as a key player in neuroscience' has been published as a feature article in The Neuropsychotherapist.
I wrote this article to raise awareness to the importance of other body systems, in this case the gut, in the role of mental health and neuroscience. As a naturopath I am passionate about mental health and fascinated by the world of neuroscience and how the brain is involved in driving emotions and behaviour. I am also quite passionate in the integrative model of mental healthcare and I believe that an individual suffering with a mental health condition such as depression, anxiety, obssessive compulsive disorder or bipolar disorder to name a few, has greater successful treatment outcomes when he or she is treated via a holistic approach. Taking into consideration an individual's biochemistry, neurology, psychosocial factors, diet and lifestyle collectively is in my opinion, the best way to help someone with a mental health condition. 
Please read the full article, which I have attached to this blog.
If you have any questions or comments please email them to micaela [at] mybodymindhealth.com.au